The Noise Of Silence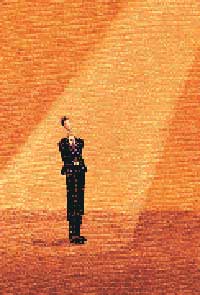 Recently I had the opportunity to speak in front of the Arizona ASHI members at their 2 day conference in Mesa. Kinda my first big speaking gig in front of a large audience. Wish I could say it went better. And I say this, not because the material presented was bad, it was the delivery or lack thereof. If I could do one thing over it'd be the opening 5 minutes, as this is where I mentally struggled to get my pace and thoughts on track.
It was just after asking the first simple question to the audience that I'd gotten thrown off and gored by the white noise. You know, the noise in your own head when your are greeted with silence from the crowd after asking for feedback. Your not sure how to react, and that was where I fell. I reacted by talking louder "at" them, which made me feel better, but further distanced me from the audience. But I do have to say this, I risked it and I learned from it. Stepping out and doing what others won't or can't is how you grow personally and professionally. Not to mention monetarily.
There were some who thanked me for the presentation and others who chimed in and said it was what they needed to hear. But I knew it from the moment the white noise hit, that personally, I had bombed. I missed the connection, or maybe it was that trust hadn't been established, or…. So many thoughts of what went wrong, and I had them all in the split second that I recognized the white noise of an unresponsive audience.
What makes this post so annoying for me is that the same thing happened during a Webinar I hosted the other night on Phase Inspections. Six home inspectors on the line and none would volunteer feedback on the easiest of questions.
I've thought about it a lot since then, to the point of signing up for Toastmasters. I'll post on how the first meeting strikes me.