Professional Inspection Services
Acuspect Home Inspections offers a full range of inspec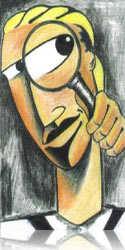 tions to fit your needs. A quick look at the Credentials page should ease your mind as to our superior education and qualifications in the home inspection field.
A full description of inspection types are listed below. Sample reports of our work product can be downloaded from the individual services links.
We are currently undergoing training and certification for the Energy Star inspections, this service should be available by the end of 2008.
Meth-amphetamine residue testing is now available for those properties that may have been exposed to meth-amphetamine use or manufacture. This is especially important if the property in question is a hotel or rental type property such as a four plex or apartment complex. This simple test can limit your liability to a known clean state at the time of purchase or give you the information you need as to the level of contamination in the property before you close escrow. Most states are in the process of enacting laws that give access to the property to the buyer for meth-amphetamine residue tests.
Home Inspection

A professional home inspection will significantly reduce your risk and help make the entire home buying process easier and less stressful. We really enjoy helping our clients in this process customer service is our highest priority. We provide you with an unbiased objective, professional evaluation of the physical condition of your home. Our findings, as well as suggestions concerning repairs and maintenance are produced in an easy to understand narrative style report. The report is generated on site and available to you at the end of the inspection.  Reports can be E-mailed, faxed, copied to a CD or sent U.S. Post. Our office is ready and waiting to discuss and assist you with your inspection needs… [Read more]

Construction Inspection
Generally, you should inspect your new home in three steps or phases.  The Pre-Pour Foundation, Pre-Dry Wall, and Final Walk Through inspections are the most common of the Phase Inspections. Of these, by far, the most important is the Pre-Dry Wall inspection as a host of different contractors have modified the framing for their particular needs. Many of these modifications have significant load and stress implications on the engineered design that may not be caught by the county inspector.  On average we find 16 – 20 code violations after the building has been cleared by the county inspector.  This is mostly due to time constraints on the county officials. 
Communication is key during this process between the new home buyer and the builders site supervisor.  New homes go up so quickly that an entire phase may be missed if the buyer is not communicating where in the construction process the builder has progressed… [Read more]
Home Warranty Inspection
This post will explain what is typically found at an 11 month home warranty inspection. Also, the post should explain the costs of not finding defects… [Read more]
Energy Star Inspections
This post will explain what an Energy Star inspection is and how it can save the client money. I can get more info from the energy star site.  [Read more]
Builder Inspection Services

This post will expand on the home inspection – construction inspection services that are offered to local builders who would like some outside quality… [Read more]