Acuspect Home Inspections offers a full range of inspec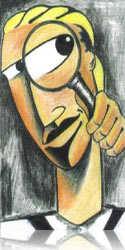 tions to fit your needs. A quick look at the Credentials page should ease your mind as to our superior education and qualifications in the home inspection field.
A full description of inspection types are listed below. Sample reports of our work product can be downloaded from the individual services links.
We are currently undergoing training and certification for the Energy Star inspections, this service should be available by the end of 2008.
Meth-amphetamine residue testing is now available for those properties that may have been exposed to meth-amphetamine use or manufacture. This is especially important if the property in question is a hotel or rental type property such as a four plex or apartment complex. This simple test can limit your liability to a known clean state at the time of purchase or give you the information you need as to the level of contamination in the property before you close escrow. Most states are in the process of enacting laws that give access to the property to the buyer for meth-amphetamine residue tests.
Well, after much more waiting and anticipation, we finally agreed on a price just yesterday. We had an estimate for the repairs that Bob itemized, and it came to over $8400! So with a portion of that, and the termite and A/C replacement, we asked for a repairs allowance of $12,500 – and had to counter and negotiate several times again! We finally agreed on a price of $$$k, YEA! I'm happy and pleased with that, and we are closing on Monday!

So thank you both for all your help. I hate to think if we hadn't gotten an inspection, etc. But we did and have some work identified that I want to do ASAP.    Lori Carroll – Tucson
Bob, I've received your reports, they seem to be well thought out and very professional. It looks like I've made a good decision.     Jack Maxson – Green Valley
There is lots to write about Bob, Gayle and their company. However, one short phrase will do: "The Best!" Acu'Spect is the only company our office recommends as providing the best and most comprehensive home inspection. Charlie Kentnor – Realty Executives Southern Arizona
Please read through the following professional designations, memberships and accomplishments for a better understanding of our level of expertise in the field of home inspection. A home inspection is NOT a commodity, but a highly skilled area of expertise in common building practice, related building codes and building envelope science. Pricing is generally reflective of an inspectors background and knowledge base in these areas. [Read more]
A home inspection is probably one of the most important services used in property transactions today. Although the process of buying a new home is very exciting, it quickly becomes overwhelming without good advice and guidance. While the home you have selected may appear to be just what you're looking for, be sure, protect yourself. Have a licensed home inspector check the home for major deficiencies.
Play the accompaning video on the right side of the screen to find out more about how an inspection can save you money before you buy.
Having your new home professionally inspected by our home inspection company as early as possible in the buying process can possibly save you thousands of dollars on items which you may be able to have the seller or builder correct.
Sellers should depend on an accurate home inspection to maximize their knowledge of the property in order to make intelligent decisions before executing an agreement for sale or purchase. If you are planning to sell your home, a home inspection prior to placing your home on the market provides a better understanding of conditions which may be discovered by the buyer's inspector, and provides you an opportunity to make repairs that will make your home more desirable to potential buyers.
Are you building a new home? Construction inspections throughout the building process are vital. For example, a foundation inspection before the concrete is poured, so that we can check the reinforcing steel and the slab thickness, an inspection after framing and rough-in of the electrical and plumbing systems and before installation of the sheetrock and insulation as well as a final walk through with the builder could save time and costly repairs later on. Schedule an on-site consultation anytime during the construction process. Written reports reference the adopted codes of the jurisdiction so there is no doubt as to what the process for correction is.
Our company is dedicated to providing you with valuable information about your new home. We thoroughly inspect all major components of the subject property to expose unknown defects, and advise you about future maintenance about your home once the purchase is complete. Our company will give you the information you require to make an informed decision.
This is a sample testimonial